Credit Extension to Individuals
Credit extended to individuals rose by 0.7% m/m and 4.8% y/y in December. The month-on-month growth was mainly driven by 'Other loans and advances', made up of credit card debt, personal- and term loans, which grew by 1.9% m/m and 15.7% y/y. The annual growth rate of this line item has been ticking up for four consecutive months, with the December growth rate being the highest since June 2020. Overdraft facilities to individuals grew by 1.9% m/m but fell 0.4% y/y, while mortgage loans rose by 0.3% m/m and 2.8% y/y. Instalment credit grew by 0.6% m/m and 2.7% y/y.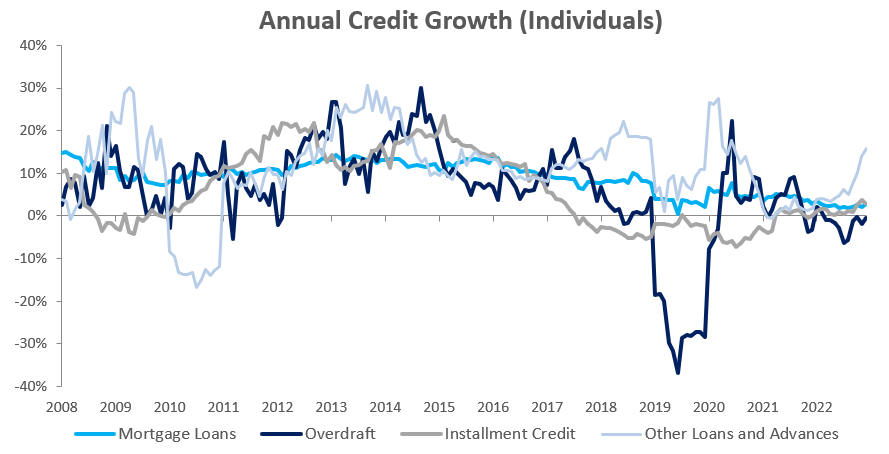 Credit Extension to Corporates
Credit extended to corporates fell by 0.2% m/m during the month. On an annual basis, corporate credit grew by 3.5% y/y in 2022, following contractions in both 2020 and 2021. Mortgage loans fell by 0.3% m/m and 3.8% y/y, declining on an annual basis for the third consecutive month. Overdraft facilities to corporates fell by 3.6% m/m but grew by 1.1% y/y. Other loans and advances rose by 1.8% m/m and 9.6% y/y, while instalment credit increased by 0.6% m/m and 13.8% y/y.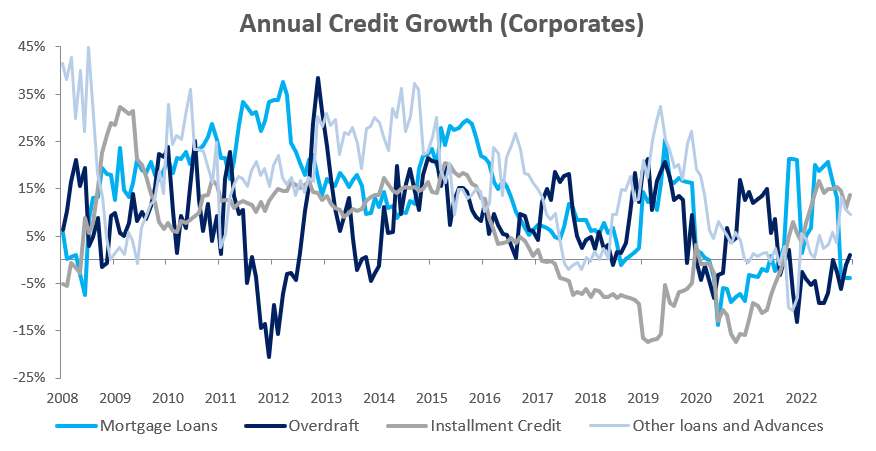 Banking Sector Liquidity
The overall liquidity position of the commercial banks strengthened further in December, rising by N$1.40 billion to an average of N$5.84 billion. The BoN ascribed the increase to a rise in diamond sales coupled with portfolio rebalancing. The strong liquidity position meant that the repo balance stood at zero at the end of the month.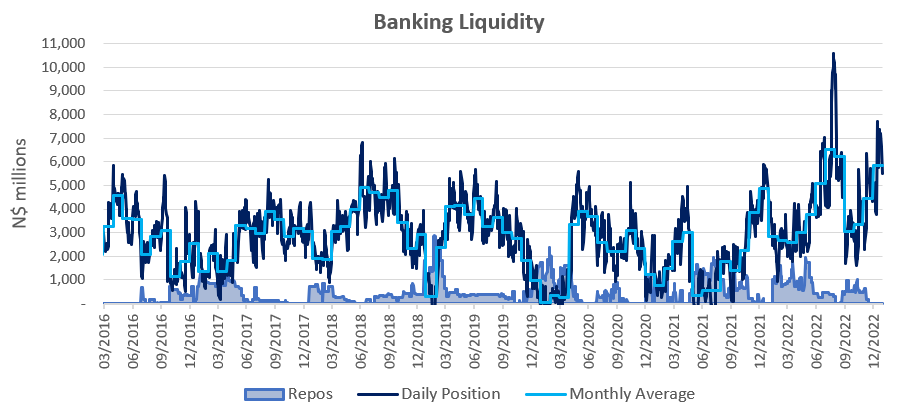 Money Supply and Reserves
According to the BoN's latest monetary statistics, Broad Money Supply (M2) rose by N$898.4 million in December to N$130.0 billion, remaining steady from last year. The stock of international reserves increased by 10.6% y/y to N$48.0 billion in December. The BoN attributed the large increase to the inflow of the AfDB loan during the month, as well as diamond sale proceeds and increased net commercial bank inflows.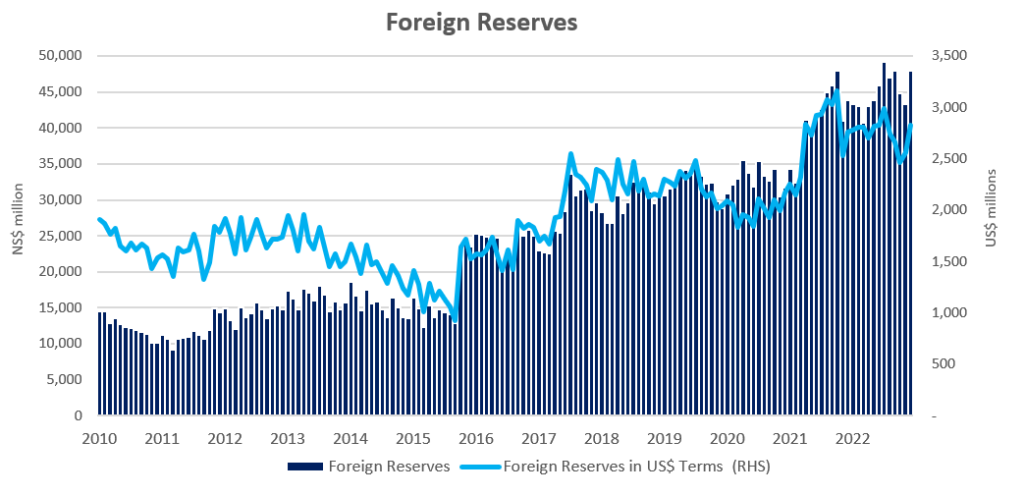 Outlook
Overall, PSCE growth rebounded in 2022, following two years of very subdued growth. The normalised 12-month issuance of N$4.10 billion is nearly three times higher than the issuance of 2021, and one-and-a-half times higher than that of 2020. Corporate credit issuance was encouragingly positive in 2022, after two years of corporates delevering their balance sheets. The 12 months also saw individuals taking up N$1.66 billion more than they did in 2021.
There is widespread consensus that we are near the peak of the interest rate hiking cycle, as central banks around the world have been moderating their rate hikes in the last two months. While the current hiking cycle has been more rapid than those witnessed in recent years, domestic interest rates are still accommodative by historical standards. At present, the market is pricing in a final 25bp hike by the SARB at its next MPC meeting.